Female African English Voice Over Explainer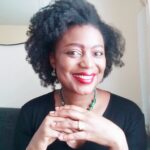 • Background: Kenyan Native
• Language: English (other)
• Accents: African (general) - Kenyan - Nigerian - Ghanaian

• Age Range: Middle-aged (35-54) and Young-adult (18-35)
• Gender: Female
• Voice Range: Warm - Believable - Authoritative - Conversational

• Category of Work: Narration - Commercial

• Studio: Home Studio - Professional Studio

• Experience: University of Clermont Auvergne (France), Big Blue Communications (UK), Cornerstone OnDemand Foundation (USA), MERCK for Mothers (USA & Canada) - TEDx - The Moth - Radio Broadcasting - Online Content Creation

• Equipment: Professional Studio (Neumann U87 Microphone and Pro Tools Software) and Home Studio (Uhuru USB Condenser Microphone and Audacity Software)

• Live Direction: Zoom, Skype, Whatsapp or MS Teams.

• Turnover Time: 24 - 48 hours or less (short form work) and open to long form or custom work.

Let's work together!
100% Secure
Job is done or money back
You pay only the listed price without any hidden costs.
We keep your money until you are happy with the delivered work.
The job will be done or your money will be returned.
Why should we work together?
I have delivered excellent work to my clients who gave me a 5-star review.
I love helping my clients to reach their goals by bringing their stories to life with my voice.
My voice character:
Young Adult, Adult, and Middle-aged Female Voice
Warm, Believable, and Authoritative.
English (other) or African English.
African accent (general, Kenyan, Nigerian, Ghanaian).
Revisions
I offer 1 revision for free within 30 days.
Any additional revisions will attract a fee.
If you've got any questions ahead of the job, please do ask.
Do you speak fluent English?
Yes. I can speak English with a General African Accent as well as East African (Kenya, Tanzania, Uganda) and West African accents (Ghana, Nigeria).
How fast can you deliver?
My average turnover ranges from 24 to 72 hours depending on the length of the script. I'm also available for long form projects and we can discuss a win-win project duration.
Do you have a home studio?
Yes. I have a home studio where I produce quality work. I use a Condenser Microphone with Audacity Software for editing.
Media Player Error
Update your browser or Flash plugin