I will narrate your female senior voiceover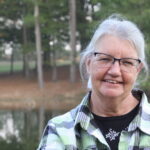 Jewel Miller is a senior female voiceover artist with a warm and pleasant voice. She has filled her life with writing, raising children and speaking. She resides at her country in the U.S. with her husband, Merv, of 45 years. They have a family of four adult children, their spouses, and fourteen grandchildren and great grandchildren.
100% Secure
Job is done or money back
You pay only the listed price without any hidden costs.
We keep your money until you are happy with the delivered work.
The job will be done or your money will be returned.
Hello, I'm Jewel Miller. I have been voicing professional quality narration for commercials, podcasts, character voices, meditations, phone messages, and other projects for more than two years. I offer two friendly style revisions and will deliver in a timely manner. I also offer a variety of additional services:
Split files
Script proofing and editing
Music added
A choice of audio formats
Syncing to your timestamp or video.
Extra Fast Delivery
I am sincere, trustworthy, and gentle. I do an impressive elderly, older, motherly, grandmotherly, voice, and am engaging, natural, and neighborly. I can be conversational, soothing, authentic, wise, and energetic and upbeat. Most importantly, I want you to succeed and will do everything in my power to make your projects do just that.
Please contact me right away so we can discuss your project.
Best regards,
Jewel
Do you speak in a British accent?
No, I do not speak in a British accent - yet. I hope to soon.
Are revisions allowed?
Of course, you may request revisions that have to do with my style of delivery. Two free revisions are allowed and after that, there is a small fee. Any script changes, no matter how small, will be charged extra.
Do you offer same day delivery?
For an additional charge I may offer same day delivery. However, you much confirm that I will be available before placing your order.
Do you offer translations services?
No, I'm sorry I do not translate from one language to another.
Do you offer multiple accents?
I offer mid-western and southeastern American accents.
Do you offer editing services of my written scripts before recording it?
Yes, for an additional fee of $10/500 words, I will edit your script to make it flow more naturally.
Do you narrate adult, religious or political scripts?
No, I do not narrate content that is objectionable to me or my family. All bad words, cuss words, swearing, or references to drugs or alcohol are not in my line of work and will not be voiced by me.
Media Player Error
Update your browser or Flash plugin
Media Player Error
Update your browser or Flash plugin
Media Player Error
Update your browser or Flash plugin
Media Player Error
Update your browser or Flash plugin