Man/male french voice over-Voix off française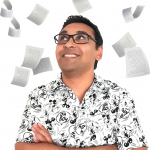 In 2006, passionate about radio, I had the opportunity to participate in multiple flagship shows in Belgium.
In 2009, between humor and interviews, I created my first podcast platform which lasted several years, it brought together the biggest celebrities in France and Belgium.
I then very quickly became interested in the world of voiceover. I got a first big order from a regional radio station, and I became the official voice for it. Production boxes notice me all over Europe.
With 14 years of experience in the voice over industry, I have performed various professional services all over the world from my professional home studio. I recording only in french :

E-learning
Jingle Radio
Liner radio
Billboard
Show TV
ADS (Radio-TV)
Answering phone
Corporate
Documentary
Cartoon (Imitation)
Institutional
Audiobook
Motion Design
...

EQUIPMENT :
Micro SE Electronics X1s
Pop filter
Soundcard : Focusrite Scarlett 2i2
Sound software : Adobe Audition
Video software : Adobe première pro
Headphone : Beyerdynamic DT770 pro et Beats Mixr

Follow me on my website : www.edwinvoixoff.pro

-

En 2006, passionné par la radio, j'ai eu l'opportunité de participer à de multiples émissions phares en Belgique.
En 2009 entre humour et interviews, j'ai créé ma première plateforme podcast qui dura plusieurs années, elle réunissait les plus grandes célébrités en France et en Belgique.
Je me suis ensuite très vite intéressé au monde de la voix off. J'ai eu une première grosse commande d'une radio régionale, et j'en suis devenu la voix officielle. Les boites de productions me remarquent un peu partout en Europe.
Fort d'une expérience de 14 ans dans le domaine de la voix off, j'ai réalisé diverses prestations professionnelles partout dans le monde depuis mon home-studio professionnel. J'enregistre uniquement en français :

E-learning
Jingle Radio
Liner radio
Billboard
Show TV
Spot pub (Radio-TV)
Répondeur
Corporate
Documentaire
Cartoon (Imitation)
Institutionnel
Audiobook
Motion Design
...

EQUIPEMENT :
Micro SE Electronics X1s
Filtre anti-pop
Carte son : Focusrite Scarlett 2i2
Logiciel son : Adobe Audition
Logiciel Vidéo : Adobe première pro
Casque : Beyerdynamic DT770 pro et Beats Mixr

Suivez-moi sur mon site web : www.edwinvoixoff.pro


100% Secure
Job is done or money back
You pay only the listed price without any hidden costs.
We keep your money until you are happy with the delivered work.
The job will be done or your money will be returned.
Some demos to :
advertising,,
e-learning,
audiotel,
corporate,
jingle radio/liner,
educational,
audiobook,
documentary ...
High quality recording from my soundproof home studio and cleaned audio file.
I working very speed.
14 years as a recognized voice-over actor in several production agencies in Europe!
I offer a very wide range of voices and interpretations with a mid / mid low tone.
__________________________________________________
Quelques démos pour :
publicité,
e-learning,
audiotel,
entreprise,
jingle radio,
liner
éducatif,
livre audio,
documentaire ...
Enregistrement de haute qualité depuis mon home studio insonorisé et fichier audio nettoyé. Je travaille rapidement.
14 ans comme comédien voix-off reconnu dans plusieurs agences de productions en Europe !
J'offre une très large palette de voix et d'interprétations avec un timbre de voix médium/mi grave.
It's must have me the script in french to the advance if possible.
Je dois avoir le script en français à l'avance si c'est possible.
Media Player Error
Update your browser or Flash plugin
Media Player Error
Update your browser or Flash plugin
Media Player Error
Update your browser or Flash plugin
Media Player Error
Update your browser or Flash plugin
Media Player Error
Update your browser or Flash plugin