Native Spanish – Latin American voice talent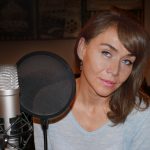 Native Spanish - Latin American voiceover talent.
Her educated voice projects a positive, warm, uplifting feeling of "everything is all right" that connects to the heart of the Hispanic community. She also delivers her "Bogotan" accent when it is needed. Claudia's voice can be perceived as 35 years female to her early 40's.
Clients use Claudia's Spanish voiceover for their corporate projects, radio, web, video marketing, promotions, on-hold messages, tutorials, kids audiobooks, and more.
100% Secure
Job is done or money back
You pay only the listed price without any hidden costs.
We keep your money until you are happy with the delivered work.
The job will be done or your money will be returned.
I connect your message with the heart of the Latino world.
With excellent delivery and pronunciation. A voice that connects emotionally, intellectually, or as a good friend. A voice that projects and feels right!
Clients use my native Spanish voice for their corporate videos, marketing advertising, radio, TV locals
spots, eLearning, IVR, and more.
I work closely with you to accomplish your vision. I love to speak my language, and therefore, I like to help improve the grammar or meaning of an idea, if necessary. I deliver PRO audios. Clean and ready to be use. Wave or Mp3.
Let's connect your message with the heart of Hispanic – Latino world!
Do you translate scripts from English to Spanish?
I do preferer don't do it. I do preferer to have a final script translated into Spanish. If the translation has some grammar issues or the meaning doesn't fit the purpose, I will let you know and suggestions. In a extreme case, if you need a quick translation for a non-technical message and a short like 1/2 page, I can do it for an extra fee.
Do you offer Live Recording or Directed Sessions?
Yes. I do life directed sessions. I can offer you Live Sessions via Source Connect Standard – or Source Connect Now. Also alternative ways like: Skype, or a phone call. I record the audio myself and upload it later.
Could you record it in English also?
Yes, but you must consider that English is my second language, which has a "Latina" accent. Some projects need to talk to Latinos in English, then, yes, I'm a perfect fit for it.
When should I expect the audio done?
Once I have a ready script, and all the questions answered, if any, a quick/same-day turnaround is available, depending on the length of the script
Please keep in mind to provide all the information you may have, so I can have a better picture of your vision. The basic tree things I need from you to start are:
- Finale script in Spanish.
- To whom your message is talking to, so the type of tone are you looking for.
- When do you need it.
Media Player Error
Update your browser or Flash plugin
Media Player Error
Update your browser or Flash plugin
Media Player Error
Update your browser or Flash plugin
Media Player Error
Update your browser or Flash plugin