BE A PROFESSIONAL VOICE OVER.
See things like a professional.
She opens up her secret approach to fans by bringing animated characters to life with heart, ingenuity, and humour.
Peek-a-boo
To help you achieve a successful voice-acting career, follow these steps:
Work on your acting skills. Voice acting is far more complex than simply reading lines on a page. Because of getting training from an acting coach, you'll get more comfortable in front of the camera, allowing you to play your character more believably.
Hire a voice-acting instructor. To do well in voice acting, you must use more than just a hilarious voice or impersonations. For many, voice acting is more difficult than being in front of the camera, but coaching may improve your skills like breathing, pronunciation, articulation, and delivery to know how to execute each line as best as possible.
It would help if you heeded professional advice. Studying voice actors requires watching advertisements, cartoons, or playing video games. Please note how they vary their tone and inflexions. To gain insight into how expert voice actors approach various roles, you can also listen to voice-acting podcasts.
Record a demonstration. A voice-over demo reel is comparable to a sizzle reel for a traditional actor; only the lack of visuals calls attention to the person talking and allows viewers to focus on their words. A professional demo reel for a voice actor combines multiple voices or lines at varying pitches.The vast majority of voice actors have two separate demos: a commercial voice-over demo and a character voice-over demo. The option to send these unsolicited demos to audition sites or find an agency that will accept submissions is available.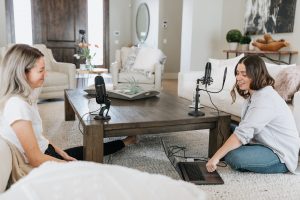 Interview. You need to go to auditions if you want to work in voice-over. Avoiding unnecessary rejections is by far the best way to avoid rejection. To find open casting calls on the Internet or locate a specialised website for vocal auditions, use Google or Bing. Before you record your audition, it is important to:
Take a look at your side.
Research character breakdowns.
Practice pronunciation.
Do not smoke or drink acidic beverages.
Try it. Practising in less-than-professional recording studios is just as vital as practising in a professional recording studio. To become more successful voice-over actors, many professional voice-over actors create their own recording studios in which they do voice-over auditions and hone their recording talents. When you have everything you need, practice reading copies and listening to your recordings to learn your speech patterns. Casting directors and audiences will like the professional voice you create by practising.
The Internet. Networking is a useful way to find work and make new acquaintances, and be better acquainted with parts of your voice-acting job. People you know can improve your chances of having an opportunity come your way. Networking is a two-way street; in every way, you can be of help to your connections. The more you contribute to the table, the more you should use it to show your support for others' achievements.