Voice Over Demo – Brazilian Portuguese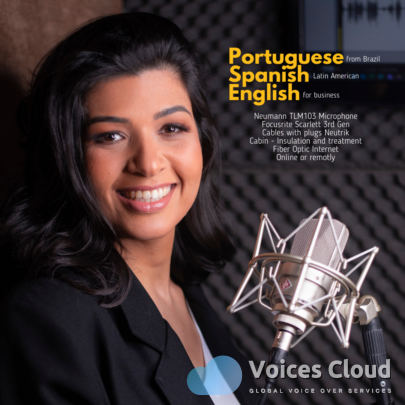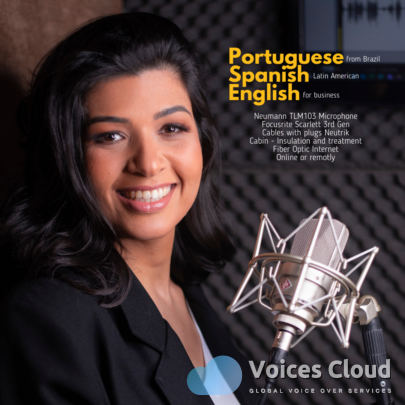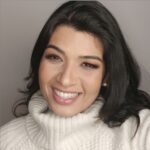 Voz de mulher, com timbre peculiar e diferenciado. Voz que transmite credibilidade e confiança de forma natural. Sotaque neutro, que se adapta às necessidades e exigências do cliente. Elegante, simpática, mãe, professora, bruxa, vizinhança.
Português brasileiro, espanhol comercial e inglês. Experiência em locução para Documentário, App, Tutorial, Audiobook, Institucional, Corporativo, Treinamento, E-learning, Off, Animação, Comercial de Rádio e TV, URA e Telefone em Espera.
100% Secure
Job is done or money back
You pay only the listed price without any hidden costs.
We keep your money until you are happy with the delivered work.
The job will be done or your money will be returned.
Woman's voice, with peculiar and differentiated timbre. Voice that conveys credibility and confidence in a natural way. Neutral Brazilian Portuguese accent, which suits the client's needs and requirements. Certainly, a voice that speaks, touches the heart and connects your business, your company, your customers or even your internal team to your ideas, services and products.
I can be a mother, teacher, counsil, lovely, grandma, neighborhood, empowered woman, conversational, emotional, deep, soft, relaxing, hight society, elegant and much more.
Jobs: Voiceover for Documentary, App, Tutorial, Audiobook, Institutional, Corporate, Training, Voice Over, Animation, Radio and TV commercial, IVR and Telephone Waiting in Portuguese, English and Spanish. Differentials: Own Professional Home Studio (Neumann TLM103 + Focusrite Scarlet 3rd gn + insulated cabin); Service Agility; Schedule Flexibility; Delivery on Time; Differentiated female tone.
Hi, Dear!
It's really great to serve you with my voice.
Please, tell me about your project, number of words, public you intended to reach.
Tell me if you have references about your project and what you hope about me.
If possible, send me your text and links about these references.
I'm disposal.
Ellen Lourenço - Brazilian Portuguese and Spanish non-native VO.
Media Player Error
Update your browser or Flash plugin
Media Player Error
Update your browser or Flash plugin
Media Player Error
Update your browser or Flash plugin
Media Player Error
Update your browser or Flash plugin
Media Player Error
Update your browser or Flash plugin